With the astrological forecast showing that the last quarter moon is now in Gemini and the sun is in Virgo conjunct with Mercury in Virgo-retrograde…it's not only time to refresh your stationary, but perhaps the art in your home too. Luckily, we have handpicked four artists whose work is not only in theme with the shifting cosmic parade, but who will also be exhibiting at the Fall editions of The Other Art Fair Los Angeles and Brooklyn. 
So, what does entering Virgo season mean? The stars are signaling a huge influx of whimsical energy. Everything may appear to unfold very quickly, as the sympathetic nervous system of all six planetary bodies are in overdrive. Alas, you may suddenly feel vee-ry busy.
But relax, things are coming together! Make sure to allow space for reflection amidst change, while embracing the first inklings of a new project and fresh conversations. And what better place to let your creativity flow than at The Other Art Fair? Be it through a compelling chat with an artist or getting down with one of our exciting features including live performance, tattoos, the hottest DJS, and much more.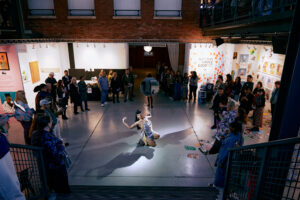 As we slow-dance our way into September, you may feel a cosmological breeze turning the leaves from green to orange, or sense it stirring in that all-too-familiar itch for routine as you descend from the summer clouds and nestle back into your body. A comforting, rejuvenating and somewhat surreal image that is reminiscent of work by photographer, Maja Planinac. Take, for example, "Breakthrough". Breakthrough is from Maja's Dreams series, which explores experimental self-portraiture through uncanny images foraged from our natural surroundings and has them meet the intimacy of human touch, as well as expressive even vulnerable positions of the body. This postural play of the physical form, as seen in Maja's work, returns us to that mischievous last quarter moon in Gemini, an agent of (co)motion daring you to shimmy away from stances that no longer work. 
Right now, you might find that scores from yesteryears are creating a symphony of insight-piercing bamboozlement. Put simply, you might feel melancholic, retrospective and restless. As jazzy improvisations take centre stage, make room for the spectacular with the photographer, NANA S.R.T., whose work considers one's personal emotions through capturing dance and its incandescent energies. NANA's subjects are constantly moving. Like the current cosmic whispers, her dancers are dizzying. In certain photographs, the motion blur is so strong that movement becomes indecipherable; it is difficult to see where limbs start and end. This visual entanglement is emphasised further by the iridescent sheen coating the dancers, as seen in "Dance: On Turquoise". Not to mention, turquoise is the hue of Sagittarius, a complementary colour and aquatic through-line to Virgo's blue sapphire!
The stars signal that our synapses are also rippling. Astral letters are soaring around the planet, fueling that staticky feeling of a light touch. It is no wonder that NANA's work, where it becomes difficult to discern the usual whereabouts of the upright body, hits an aesthetic soft spot. It's important to stay focused and be practical. There may be something you want to get started with that can reach a height in a matter of weeks. Just in time, then, for both the LA and Brooklyn Fall edition of The Other Art Fair (*cue reader eye-roll*). You will find artist, Rodrigo Spinel, at the latter. Spinel's work explores the construction of images, objects and spaces through the repetition of tiny details, such as a postage stamp, the air waybill or QR codes, as seen in his series, "TERMS AND CONDITIONS 2.0." The reccurence of these symbols leads to the creation of complex universes where that repeated sign acquires value. Rodrigo's work speaks to the undercurrent of percolating ideas, new channels of communication and echoes of past connections that are to be followed up soon.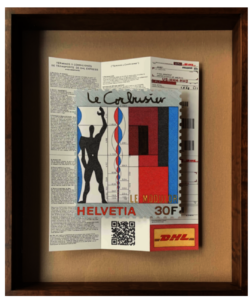 As the celestial light of Venus returns from its 40-day excursion, love has become a journey of self-discovery. Virgo's are natural problem-solvers, so linguistic systems, mathematical formulas and new found boundaries are currently in full swing. For all we know, it could be a sure case of "Return to sender"… But Rodrigo could tell you that! You can thank the mercurial energy for that curious thrill of returning to work, school, or a more regulated environment, as well as the rooting power in Virgo. Earthly treasures serenade our senses. Or better yet, earthy, when contemplating multimedia artist, Sasi Kladpetch's, environmental sculptures. Made from concrete, moss and dirt, Sasi's sculptures reflect the beauty of nature that has been hidden among urban living. Sasi's work gently prompts us to stay grounded, accept the difference between our desires and resources, and be grateful for the hidden in seemingly set architectural structures. Did you know that Virgo is an earth sign?
Ah-a, perhaps it's written in the art after all.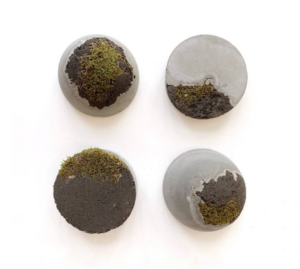 Words by Bella Thorpe-Woods