Pertinently, Venom: Let There Be Carnage's epic epilogue starts innocuously enough with a victorious Eddie chilling out in his hotel room, in bed watching television. A conversation between the man and his symbiote then takes a turn that soon proves prescient when the alien entity implies that "eighty billion light-years of hive knowledge across universes would explode your tiny mind," and then offers to provide a glimpse of said knowledge. However, a mysterious phenomenon ensues that neither Eddie nor Venom can explain, as the seedy setting suddenly appears fancier, and, indicatively, Spider-Man: Far from Home's fateful broadcast of J. Jonah Jameson's (J.K. Simmons) Daily Bugle scoop of Spider-Man's identity as Peter Parker plays on the TV.
Thusly, in a development possibly attributed to both Venom's attempt to edify Eddie and other-universe magic meddling from the MCU via Doctor Strange's spell to undo the doxing (as showcased in the trailer for Spider-Man: No Way Home), Venom is officially in the MCU, and immediately fixates creepily on the TV's unmasked image of Peter Parker in his Spidey suit—by licking the screen! Regardless, the scene teases a fateful film feud, one for which Hardy has been campaigning.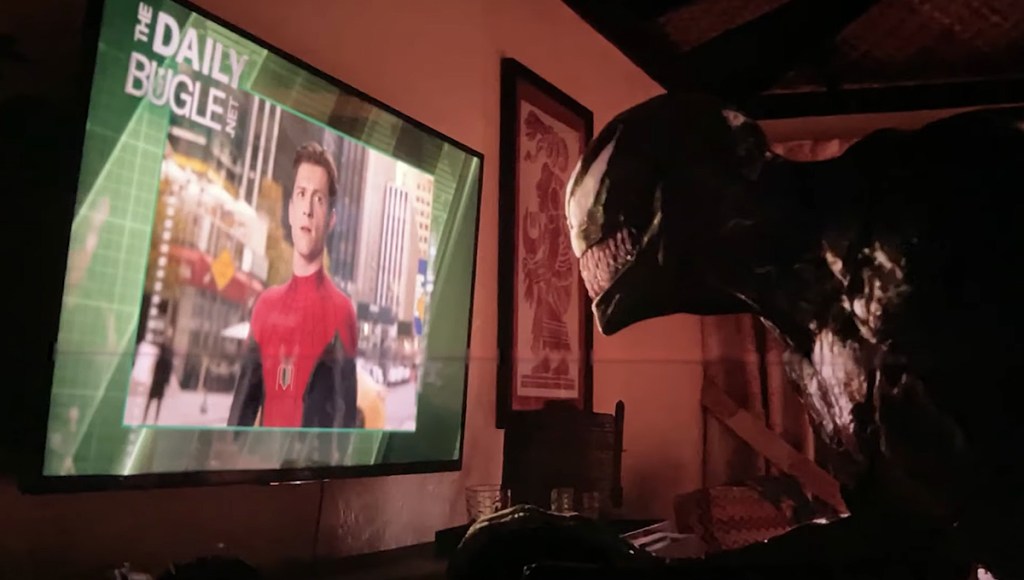 Of course, the crux of Venom: Let There Be Carnage's primary plot centered on Brock's destructively escalating feud with Cletus Kasady (Woody Harrelson), an incarcerated serial killer who became the subject of our protagonist's professional journalistic focus, who would fatefully find himself joined with the spawn of Venom's symbiote to become the unleashed crimson killer, called Carnage. Consequently, with the film's plot essentially expediting a rendition of one of the most famous storylines in the annals of Marvel Comics' Spider-Man titles, the inclusion of an appearance by Tom Holland's Peter Parker/Spider-Man in the body of the film doesn't seem feasible in hindsight, especially with all the time-consuming exposition that such an appearance would necessitate. Nevertheless, it's no surprise that it was on the table at some point in the film's developmental process, especially given the head-scratching way that 2018's Venom came to the table presenting a cold-intro solo story centered on one of Spider-Man's most iconic comic book archnemeses… without Spider-Man.
Venom: Let There Be Carnage is playing at a theater near you. However, the multiverse mania that the film's post-credits scene vaguely hints will be explained when Spider-Man: No Way Home hits theaters on Dec. 17. Given the latest development, speculation about Tom Hardy's Venom showing up alongside returning Spider-Man villains from past film iterations has gained momentum. Additionally, ensuing MCU release Doctor Strange in the Multiverse of Madness brandishes a title that strongly hints its status as a follow-up, with the sequel set to arrive on Mar. 25, 2022.