We don't appreciate how many perfect casting decisions Marvel made to bring its colorful heroes to life.
Robert Downey, Jr. Chris Evans. Scarlett Johansson. Benedict Cumberbatch. Samuel L. Jackson. Paul Rudd. Elizabeth Olsen. Paul Bettany. Jeremy Renner.
And then came Brie Larson.
The Oscar winner proved a clumsy fit for 2019's "Captain Marvel," but the MCU barreled along despite her flat line readings. Now, Larson is back with "The Marvels," and she looks slightly more comfortable in the superhero setting.
Slightly.
The problem? She's out-charmed by co-star Iman Vellani as Ms. Marvel, and director/co-writer Nia DaCosta helms a movie with too many tonal shifts and not enough coherence.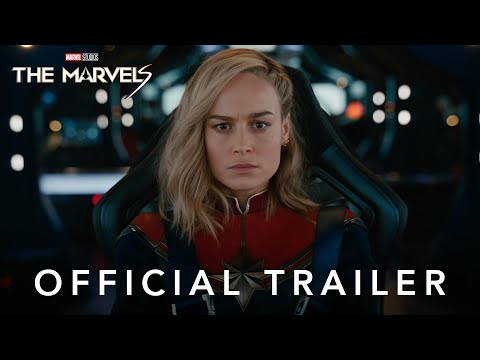 The film opens with a crush of activity, explanations and confusion. New villain Dar-Benn (Zawe Ashton) recovers a magical bangle on a cheap-looking planet, but she had hoped to find TWO bangles that would give her incredible power.
Think Thanos' Infinity Gauntlet but far less interesting.
Dar-Benn's actions open up a wormhole in space, and suddenly our three "Marvels" – Captain Marvel, Ms. Marvel and Monica Rambeau (Teyonah Parris) repeatedly switch places.
Or, the wormhole "entangled our light-based powers," as Monica explains early in the film.
"The Marvels" does a LOT of explaining, but it doesn't always make sense.
The trio swiftly line up to stop Dar-Benn from, well, your guess is as good as mine. Let's take a stab at it.
Do Generic Villain Stuff?
Steal Natural Resources from Neighboring Planets to Revive Her World?
Retrieve the Bangle at All Costs?
Get Back at Captain Marvel, AKA 'The Annihilator?'
Max out the MCU FX Budget?
Pick a lane!
"The Marvels" careens from one absurd sequence to one where the leads hug/bond/banter as if the stakes in play were less than vital. We visit a planet where everyone speaks in song (Planet 'Glee?') and a tribute to the Beastie Boys "Intergalactic" that produces a few smiles but could easily be snipped.
And if you thought the site of large tentacles spewing from a house cat was funny the first time, you're in for a treat with "The Marvels."
This critic didn't watch all of "Ms. Marvel," "Secret Invasion" or "WandaVision," so it's possible those shows fill in some of the storytelling blanks. It's not worth scurrying to Disney+ and watching those episodes to prepare for something as mediocre as "The Marvels."
Young Vellani is chipper and cheerful as the wannabe Avenger with a fangirl crush on Larson's character. Her family tags along for the space ride, offering a few more smiles.
It all feels like a Disney+ series that doesn't deserve a big-screen closeup.
View this post on Instagram
Yet "The Marvels" isn't the stiff that "Captain Marvel" proved four years ago. It wraps in a brief (for the MCU) 105 minutes, and the pace is frantic enough to keep audiences awake. The tone ensures we don't mistake the story from something consequential, and the screen brims with so much color it makes for a killer screen saver.
The action sequences are competently assembled but never threaten the legacy of that "Captain America: Civil War" Battle Royale … or anything from the first MCU phases.
Jackson returns as Nick Fury, but he exists to push select scenes forward and spit out a few modest one-liners. Does he need the paycheck that badly?
The biggest on-screen villain? The generic screenplay that makes the industry's battle against A.I. seem superfluous. Sorry.
The robots already won.
HiT or Miss: "The Marvels" never takes itself seriously, and will appeal the most to easy-to-please teens. Everyone else is better off rewatching the early, great MCU adventures.
The post 'The Marvels' Lives Down to the Bad Buzz appeared first on Hollywood in Toto.