Earlier this week, Stand Up for Heroes (SUFH), New York's highly anticipated night of hope, healing and laughter, returned for its 17th annual celebration to honor our nation's veterans and their families at David Geffen Hall at the Lincoln Center for the Performing Arts.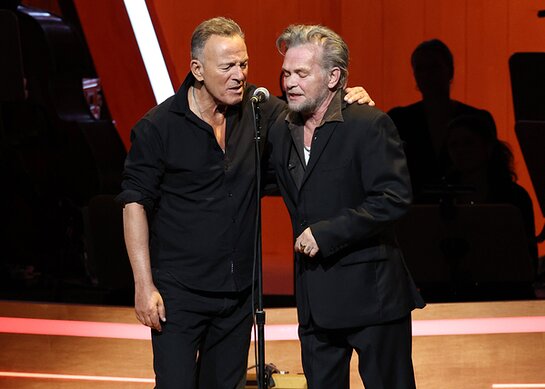 The event raised awareness and over $14 million for the Bob Woodruff Foundation, whose mission is to ensure that our nation's veterans, service members, and their families — those who stood for us — have stable and successful futures.
Jimmy Carr, Ronny Chieng, Shane Gillis, Josh Groban, John Mellencamp, Tracy Morgan, Bruce Springsteen, Jon Stewart, The War and Treaty, and Rita Wilson treated the crowd to an evening of comedy and musical performances. In addition to the incredible entertainment, Stand Up for Heroes shined a light on the stories of the remarkable men and women who have stood for us as members of our nation's military. The event also included video messages from First Lady Jill Biden and Prince Harry, Duke of Sussex. SUFH is a part of the New York Comedy Festival, which runs from November 3 – 12 and features some of the biggest names in comedy.
During the event, craigslist founder and philanthropist Craig Newmark took to the stage to announce an extraordinary $10 million donation from Craig Newmark Philanthropies to support the Bob Woodruff Foundation's initiative to improve mental health. The donation is part of Craig Newmark Philanthropies' previously announced monumental $100 million pledge to nonprofits that supports veterans and military families – $28 million of which has gone to support Bob Woodruff Foundation this year. Craig Newmark is a member of the Bob Woodruff Foundation Board of Directors.
In 2007, New York Comedy Festival founders Caroline Hirsch and Andrew Fox partnered with Bob and Lee Woodruff to create this special event as a tribute to impacted veterans and their loved ones. Since its inception, Stand Up for Heroes has raised $84 million to date to help all veterans and military families have successful futures. Over the past 16 years, comedians and performers including Stephen Colbert, Eric Church, Sheryl Crow, Jim Gaffigan, Whoopi Goldberg, The Lumineers, John Mayer, Seth Meyers, Hasan Minhaj, John Mulaney, Trevor Noah, Conan O'Brien, Jerry Seinfeld, Bruce Springsteen, Jon Stewart, Red Hot Chili Peppers, and Robin Williams have taken the stage to advocate for our extraordinary service members.
Stand Up for Heroes is sponsored by Bread Financial and presented by the Bob Woodruff Foundation and the New York Comedy Festival. In addition to Bread Financial, support for Stand Up for Heroes is brought to you by Craig Newmark Philanthropies, The State of Qatar, Gridiron Capital, H.C.S. Foundation, HSBC, UBS, Ann G. and James B. Ritchey Foundation, Citi, Pendleton Whiskey, Philip Morris International, Steven and Alexandra Cohen Foundation, Vehicles for Veterans, Assured Guaranty, Barclays, BNP Paribas, Cantor Fitzgerald, Jones Lang Lasalle, NEAR, RBC Capital Markets, TriWest Healthcare Alliance, Amazon Warriors, Barbara Bradley Baekgaard Foundation, BlackRock, Bloomberg Philanthropies, Goldman Sachs, Henry Repeating Arms, Ryan Myrick, Salesforce, The Walt Disney Company, World Wide Technology, Academy Securities, AmeriVet Securities, Breakthru Beverage Group, Chegg Foundation, CME Group, Cohen Veterans Bioscience, Cross River, Drexel Hamilton, DTCC, EMD Serano, Holt Logistics, Macquarie, Mischler Financial, Napier Park Global, National Basketball Association, Skadden, Slate Asset Management, Tadler Law LLP, TD Cowen, Tudor Investment Corp, Webster Bank, and UFC.
The NYCF is produced by Carolines on Broadway and is made possible by its partners Bread Financial, Peacock, Hard Rock Hotel New York, Death Wish Coffee Co., Straight Talk Wireless, Dr. Squatch, ABC7, iHeartRadio, MTA Away, Mayor's Office of Media & Entertainment, New York City Tourism + Conventions, New York Magazine, New York Post, SiriusXM Radio, and Vulture. Among those performing at this year's festival are Bill Burr, Margaret Cho, Ilana Glazer, Brett Goldstein, Jeff Ross, and Michelle Wolf.