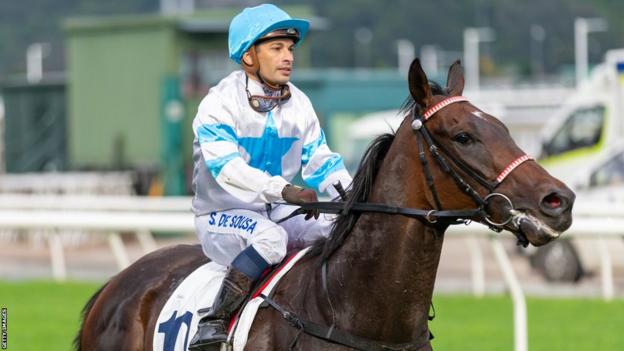 Three-time champion jockey Silvestre de Sousa has been suspended for 10 months after pleading guilty to a betting charge.
De Sousa, who has raced in Hong Kong since September, is banned until 12 March 2024.
His Brazilian compatriot Vagner Borges has been handed a 12-month ban for the same offence.
The Hong Kong Jockey Club said Borges "had an interest in a bet" on his mount Young Brilliant in a race on 26 April.
The HKJC said De Sousa "facilitated" the bet.
"There was no evidence before the stewards that Borges and De Sousa had ridden their horses in the respective race with any intention other than to obtain the best possible placing for their mounts," said a statement.
It added: "It is fundamental to the integrity of racing that jockeys are not permitted to bet or to have an interest in a bet."
De Sousa, 42, was champion jockey in Britain in 2015, 2017 and 2018.