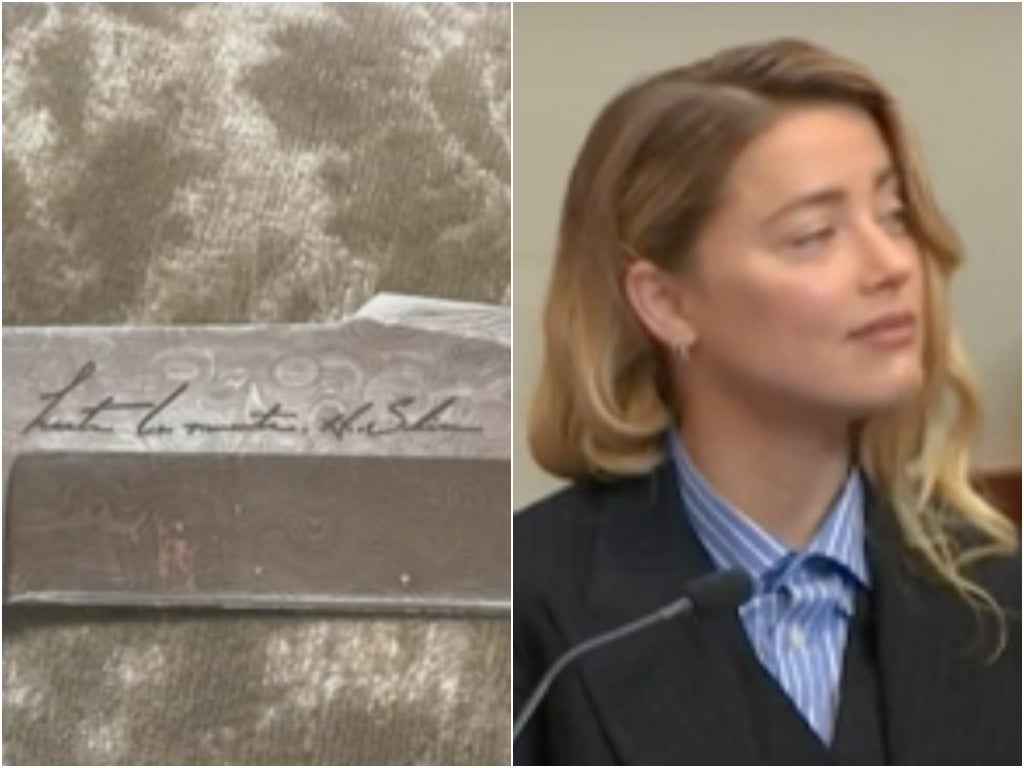 The psychologist called by Amber Heard's legal team to testify has been asked about a knife Ms Heard gave to Johnny Depp with the inscription "until death".
The defamation trial between Mr Depp and Ms Heard began on Monday 11 April in Fairfax, Virginia following Mr Depp's lawsuit against his ex-wife in March 2019. Mr Depp is arguing that she defamed him in a December 2018 op-ed published in The Washington Post titled "I spoke up against sexual violence — and faced our culture's wrath. That has to change".
Dr Dawn Hughes was shown a picture of a knife with the words "hasta la muerte" – "until death" in Spanish. The image has appeared previously in the trial.
Mr Depp's lawyer Wayne Dennison asked Dr Hughes if it was her testimony that someone who was "afraid for her life" would gift this to their partner.
There's "context", Dr Hughes said.
Heard lawyer Elaine Bredehoft later asked Dr Hughes about that context, to which the psychologist said, "I believe that this is the knife that has a turquoise end and this was when Mr Depp was filming The Lone Ranger and he was in a turquoise phase".
"She purchased him that because she thought it would be a kind gift. The phraseology is that Mr Depp told her 'the only way out of this relationship is death'," Dr Hughes said.
The psychologist said Ms Heard was engaged in "denial" concerning the " violence in the relationship" at the time.
She added that Mr Depp's comment came in connection to a discussion about a prenup during which he said, "I don't want one because the only way out of this relationship is death".
Dr Hughes said this was a "clinical cause for concern at the time".
Ms Heard appeared to smile in the courtroom as Mr Dennison asked Dr Hughes if she spoke Spanish before showing the image of the knife, to which Dr Hughes said "un poquito" – "a little".
Dr Hughes said that Ms Heard's reports of intimate partner violence (IPV) were in line "with what we know and the literature" concerning IPV.
"You have no independent knowledge of the facts underlying the alleged abuse, correct?" Mr Dennison asked.
"I have the knowledge of the plethora of documents I've reviewed," Dr Hughes responded.
Mr Dennison went on to note that Ms Heard's reports of abuse to Dr Hughes came after Mr Depp's lawsuit against Ms Heard, which Dr Hughes said was accurate.
Mr Depp's attorney asked if a relationship could be evaluated without speaking to both sides.
"You certainly can get a lot of information from one party, absolutely," Dr Hughes said.
The psychologist was later asked about conversations she had with Ms Heard about fellow actor James Franco, who Ms Heard appeared alongside in the 2015 film The Adderall Diaries. The jury was told earlier in the trial that Mr Depp was "jealous" of Mr Franco as well as other actors.
Dr Hughes was shown some of the notes she made concerning "intimate relationships" as she evaluated Ms Heard.
"JF - friends - got close - but really wanted to be with Johnny," one note reads. Dr Hughes testified that Ms Heard didn't say that this was an intimate relationship, but that she had asked Ms Heard about it since his name had appeared in connection to the case.
Other notes state that Ms Heard met Tesla and SpaceX CEO Elon Musk at the "Met Ball" and that she dated him after Mr Depp.
Dr Hughes was then asked to listen to an audio recording played earlier in the trial, in which Ms Heard can be heard saying, "I was hitting you, it was not punching you" to Mr Depp.
"I did not f*****g deck you ... I did not punch you, I was hitting you," she added.
"You're a f*****g baby," she added later.
"I did start a physical fight", she admitted and then appeared to mock Mr Depp, saying that it was "admirable" for him to step back from the fight.
Dr Hughes said that if Ms Heard struck Mr Depp, as the audio appears to show, it wouldn't be "reactive violence".
She was then shown an image from earlier in the trial showing Mr Depp on a gurney after a fight with Ms Heard in Australia in 2015, during which he claims his finger was severed when Ms Heard threw a vodka bottle at him – an allegation Ms Heard denies.
Dr Hughes agreed that Mr Depp's injury was "severe".
Mr Dennison asked Dr Hughes if it was okay to throw bottles "because your husband fell of the wagon".
Dr Hughes said she would need more context, but added, "I don't think throwing bottles is acceptable in any context".
The psychologist was then questioned about notes she made while testing Ms Heard for PTSD, which included references to "IPV by Johnny".
Dr Hughes said the note concerned the "worst" traumatic episode Ms Heard said had occurred in her life.
"Life threat", "serious injury", and "sexual violence" were circled indicating "yes".
Dr Hughes said Ms Heard experienced a "number of PTSD symptoms during Aquaman that interfered with her ability to really organise a lot of resources for herself".
In her 2018 op-ed, Ms Heard wrote that "like many women, I had been harassed and sexually assaulted by the time I was of college age. But I kept quiet — I did not expect filing complaints to bring justice. And I didn't see myself as a victim".
"Then two years ago, I became a public figure representing domestic abuse, and I felt the full force of our culture's wrath for women who speak out," she added at the time.
While Mr Depp isn't named in the piece, his legal team argues that it contains a "clear implication that Mr Depp is a domestic abuser", which they say is "categorically and demonstrably false". Mr Depp is seeking damages of "not less than $50m".
Ms Heard has filed a $100m counterclaim against Mr Depp for nuisance and immunity from his allegations.