Project Angel Food celebrated the launch of Rise to the Challenge: The Campaign to Expand Project Angel Food, a multi-year campaign including a $51,000,000 expansion to include renovation of Project Angel Food's current building at 922 Vine Street and construction of a brand-new facility next door at 960 Vine.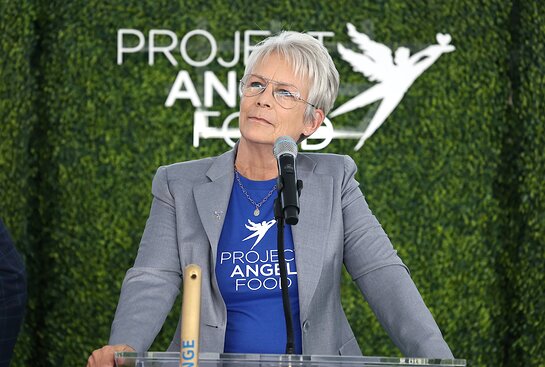 The two buildings will be named The Chuck Lorre Family Foundation Campus and are expected to be completed by 2027. A ground breaking ceremony and press conference took place to unveil the new location which will enable the organization, working to end food insecurity for critically ill individuals in Los Angeles, to double the size of its current facilities and triple its meal production capacity.
Project Angel Food's Rise to the Challenge Campaign Honorary Chair Jamie Lee Curtis, Honorary Founding Chair Marianne Williamson, Trustee Sheryl Lee Ralph, Chuck Lorre and Trisha Cardoso of The Chuck Lorre Family Foundation, State Assembly member Rick Chavez Zbur, LA County Supervisor Lindsey Horvath, Frances Fisher and more joined Project Angel Food CEO Richard Ayoub for the milestone event.
Founded in 1989 by Marianne Williamson along with David Kessler, Ed Rada, Howard Rosenman and Freddie Weber to provide meals to people living with HIV/AIDS, Project Angel Food has expanded its mission to serve all people diagnosed with any critical, life-threatening illness, and strives to end food insecurity and improve health outcomes of chronically ill men, women and children in Los Angeles County. Medically Tailored Meals are prepared by staff and volunteers and then are delivered directly to clients' doors, with care and compassion. In addition, those on service receive nutritional counseling and support, special gift bags on their birthdays, holiday and culturally specific meals, and wellness checks from "Telephone Angels." More than 2,500 clients are fed daily and Project Angel Food delivers more than 1.5 million meals each year.