The picture is taken at a location where it collected a sample from a rock nicknamed "Sequoia", explains Nasa. The panorama was actually taken a fortnight ago, on 21 and 26 October 2023.
As well as being a striking image in its own right, it's a reminder that Curiosity has been on the go for 11-years now. It's now in its fourth extended mission. Go Curiosity!
Its mission team, the agency highlights, is working to ensure the "robotic scientist" stays operational, despite wear and tear from its more than decade long journey. That's four thousand Martian days after setting foot, or wheels, in Gale Crater on 5 August 2012.
Microbial life
To study whether Mars once had the conditions to support microbial life, the rover has been gradually ascending the base of 5-kilometer-tall Mount Sharp, whose layers apparently formed in different periods of Martian history. They offer a record of how the planet's climate changed over time, says Nasa.
"The types of sulfate and carbonate minerals that Curiosity's instruments have identified in the last year help us understand what Mars was like so long ago," said Ashwin Vasavada, Curiosity's project scientist at NASA's Jet Propulsion Laboratory in Southern California, which leads the mission. "We've been anticipating these results for decades, and now Sequoia will tell us even more."
Curiosity Mars rover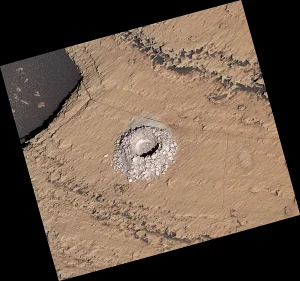 Pictured right, the Curiosity Mars rover used the drill on the end of its robotic arm to collect a sample from Sequoia, on 17 October, the 3,980th Martian day of the mission. The rover's Mastcam captured this image.
You can read more about the rover and its work on the Nasa website.
Images: NASA/JPL-Caltech
See also: Nasa launches slithering snake robot called EELS