Posted on September 10, 2023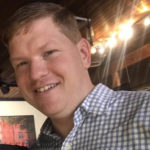 By Mark Schmor, SuperWest Sports

To celebrate the history of the Pac-12/10 Conference in the wake of its demise, I'm putting together a weekly Top 10 list of memorable players, coaches, teams, games, and plays.
This week I'm focusing on the Top 10 quarterbacks in Conference history dating back to 1978, when the Pac-8 became the Pac-10, continuing from 2011 to the present as the Pac-12.
Rather than comparing stats straight up, I focus on criteria such as All-Conference and All-American honors, as well as other accolades.
NFL draft status and NFL success don't figure heavily but are also difficult to completely ignore, especially for players before my time.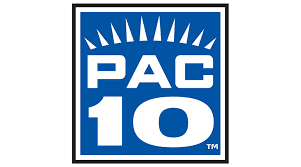 Moreover, I use the so-called "Rodney Peete Rule," inversely known as the "Jake Plummer Rule." The upshot of it is as follows.
Is it better to be the fourth-greatest quarterback at a school with a ton of great QBs or clearly the best quarterback at a school with little to no history of great QBs?
Spoiler: Much better to be Jake Plummer. Sorry, Rodney.
Finally, I'm definitely going to be wrong. A lot. I probably left out a deserving player from your favorite team or the guy I ranked ninth was way too low and the guy I ranked second was way too high.
For me, making these lists is an opportunity to reflect on some great players and their contributions to some great moments. If you disagree, feel free to let me know.
So let's get to my first list, in reverse order, starting with Honorable Mention and counting down to No. 1.
[[You may also be interested in Jack Follman's All-Time Top 25 Pac-12 Quarterbacks]]
—Honorable Mention—
Colorado: Kordell Stewart

Colorado players are only eligible for this list from the time they joined the conference in 2011 but we should at least mention Colorado's Kordell Stewart who threw one of the all-time great Hail Marys in 1994.
Utah: Alex Smith
The same post-2011 time limitation applies to Utah, but I would be remiss not to mention Alex Smith, who led the Utes to an undefeated record in 2004 and was selected No. 1 in the NFL draft.
Arizona: Nick Foles

Arizona's best quarterback in school history is probably Nick Foles, who nearly led Arizona to the Rose Bowl in 2009 and got better in 2010 and 2011 as the Wildcats got progressively worse.
However, it's hard to make a case for a guy to make a list like this when his head coach got fired halfway through his senior year.
Oregon State: Derek Anderson, Matt Moore, Sean Canfield, Sean Mannion
Oregon State had a good run of quarterbacks in the Mike Reilly era with Derek Anderson, Matt Moore, Sean Canfield, and Sean Mannion.
All were drafted within a 10-year span but none of them reached a level of transcendence like the Top 10 below.
Washington: Jake Browning, Marques Tuiasosopo, Warren Moon, Mark Brunell
The toughest omissions came from the University of Washington.

Jake Browning had a brilliant sophomore season in 2016 when he led the Huskies to a College Football Playoff appearance but he didn't come close to matching the same level of production during his junior or senior seasons.
Consideration was also given to Marques Tuiasosopo who won the Pac-10 Player of the Year in 2000 and you could easily talk me into finding him a spot on this list.
Washington also produced a slew of NFL quarterbacks in the Don James era, most notably Warren Moon and Mark Brunell, but they just couldn't reach the heights of the guys on this list.
—Top 10 Quarterbacks of the Pac-10/12 Era—
No. 10 — Caleb Williams, USC (2022-present)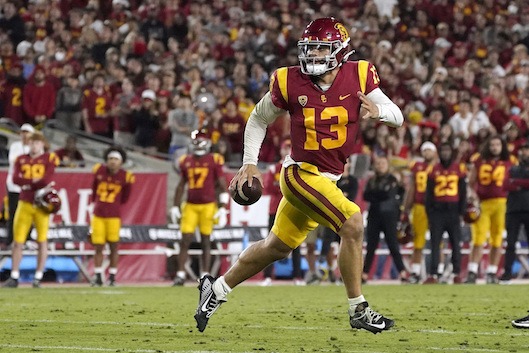 This is a bit of a placeholder spot. Caleb Williams already has a Heisman to his name and if he adds another one he just might jump all the way to the top of this list.
Williams also serves as a representative for the rest of the current Pac-12 quarterbacks who are also vying for a spot on this list.
Does Michael Penix grab this spot if he leads the nation in passing yardage for a second season in a row? Does Cam Rising grab this spot if he leads Utah to a third straight conference title? Time will tell.
No. 9 — Carson Palmer, USC (1998-2002)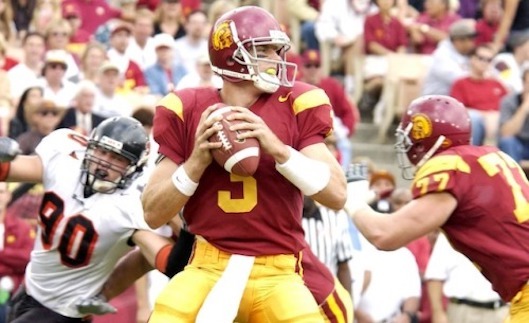 Heading into Carson Palmer's senior season, there was nothing to indicate he would be included on a prestigious list like this. Up to that point, Palmer had posted 38 touchdowns and 39 interceptions throughout his career.
His sophomore season resulted in a 5-7 record and the firing of Paul Hackett, and his junior season resulted in a 6-6 with little indication that the Pete Carroll era was going to be any better.
Then Palmer put together a Heisman-winning senior season in which he threw for 3,942 yards and 33 touchdowns.
The Trojans posted an 11-2 record that was capped by a blowout win over Iowa in the Rose Bowl. Just like that, the Pete Carroll era was off and running.
No. 8 — Aaron Rodgers, California (2003-04)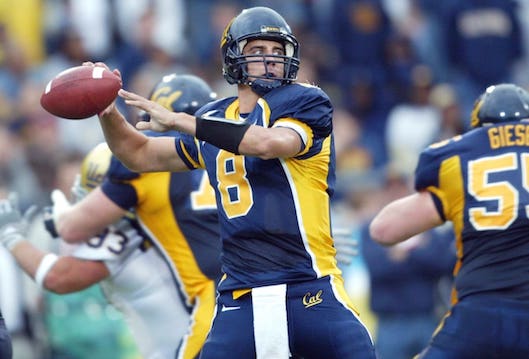 Statistically speaking, Jared Goff is far and away the best quarterback in Cal's history.
His 12,195 passing yards are more than 4,000 yards ahead of the second player on the list (Troy Taylor) and his 96 touchdown passes are more than 30 ahead of the second player on the list (Kyle Boller).
Throw in the fact that Goff was the top pick in the 2005 NFL Draft and there's a good argument that Goff should be on this list, not Rodgers.
I chose Rodgers for two reasons—two games really.
In 2003, Rodgers led Cal to an upset over third-ranked USC in a 34-31 overtime thriller. That was USC's only loss of the 2003 season that ended with the Trojans sharing the national championship.
In the 2004 rematch, Cal wasn't able to deter USC's march to an undefeated season and a repeat national championship, but they came agonizingly close to doing so.
Cal lost 23-17 despite racking up more than twice as many total yards as the Trojans.
Rodgers set an NCAA record when he completed 23 passes in a row but the game ended when the Bears were unable to convert a 4th-and-goal in the final minutes. It was Cal's only loss of the regular season.
Those USC teams in 2003-04 teams were an overwhelming juggernaut yet in those two matchups Rodgers and Cal essentially played them to a draw.
No. 7 — Joey Harrington, Oregon (1998-2001)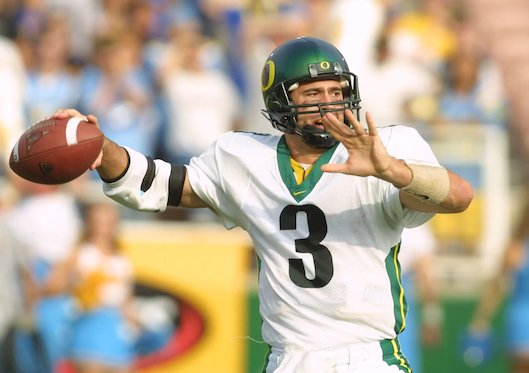 I'm an Oregon fan so I want to be aware of my own bias here. It's possible I have Joey a couple of spots too high but it's also possible I have Joey a couple of spots too low.
Either way, we cannot overestimate the role he played in helping to transform Oregon from a cute story into a team to be taken seriously at the national level.
At the time Harrington arrived in Eugene, the Ducks had won three bowl games in their entire history. Harrington would lead them to three consecutive bowl wins.
As a junior in 2000, he led Oregon to 10 wins for the first time in school history and the Ducks finished the season ranked No. 7 in the nation.
In their Cotton Bowl win over Texas, Harrington threw for two touchdowns, ran for a touchdown, and caught a touchdown pass in what became the signature highlight of his career.
Heading into his senior year, the Oregon hype machine put their full force behind him with a ridiculous billboard in New York City.
He was on the cover of Sports Illustrated with Oregon State running back Ken Simonton as the two Oregon schools carried massive expectations into the 2001 season.
Oregon State wasn't able to deliver as they were upset by Fresno State in their season opener and stumbled to a 5-6 record.
Yet Harrington lived up to the hype by leading Oregon to 11 wins, a Fiesta Bowl blowout of Colorado and a number 2 national ranking to end the season.
From the time he took over the starting job midway through his sophomore season, the Ducks were 13-2 in games decided by a touchdown or less.
And 11 of those victories were games in which the Ducks were tied or trailed at some point in the fourth quarter. There was a magic to Joey Harrington and I think I need to stop now because I'm getting carried away.
No. 6 — Cade McNown, UCLA (1995-98)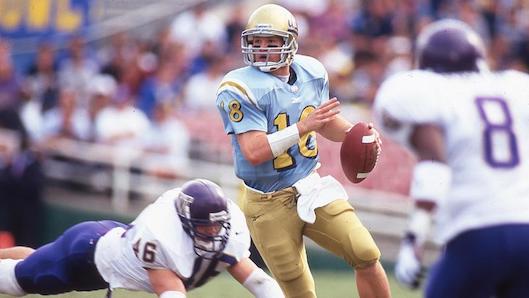 Cade McNown was born in Portland and, as an Oregon resident, I can remember him starring for West Linn High School.
I also remember him out-dueling Akili Smith and Oregon in a 41-38 overtime thriller that marked the first time ESPN's College Gameday made a trip out to the West Coast.
I certainly wouldn't argue with a UCLA fan who would advocate for Troy Aikman in this spot.
Aikman transferred to UCLA from Oklahoma in 1986, led the Bruins to a couple of 10-win seasons, finished third in the Heisman voting in 1988, and was taken by the Dallas Cowboys with the top pick of the NFL Draft.
Because Aikman ended up being the top pick and went on to NFL stardom, I think most fans would think of him as being superior to McNown.
Yet McNown also led the Bruins to back-to-back 10-win seasons and finished third in the Heisman voting as a senior.
Yet unlike Aikman, McNown finished in the Top 10 on the Heisman ballot as a junior as well, one of just three guys on this list to achieve that distinction in back-to-back seasons.
McNown also had UCLA in the national title discussion in 1998 when the Bruins won their first 10 games before losing a 49-45 thriller to Miami in an early December finale, rescheduled from September due to a hurricane.
No. 5 — Ryan Leaf, Washington State (1995-97)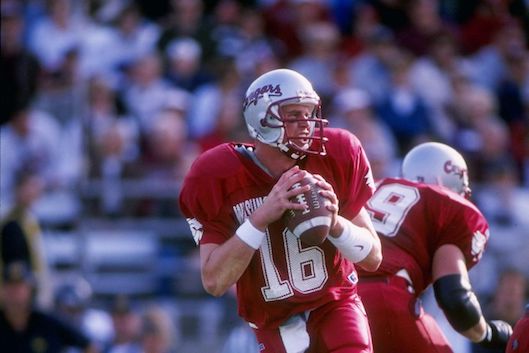 There are a number of Cougs who could make a strong case for inclusion here, from Drew Bledsoe to Jason Gesser to just about any of the Mike Leach-era guys.
(I'm partial to Gardner Minshew but you might be partial to Anthony Gordon and the WSU record books are partial to Luke Falk and Conner Halliday).
I've got Leaf here because he was responsible for leading the best team in school history to a Rose Bowl, where they played eventual national champion Michigan down to the wire.
It's tough to disentangle what we think about Leaf from all of his on-field and off-field struggles after leaving Wazzu, but it's worth remembering a months-long national discussion comparing him with Peyton Manning.
The reason that conversation went on for several months? There were some really good arguments in Leaf's favor.
No. 4 — Jake Plummer, Arizona State (1993-96)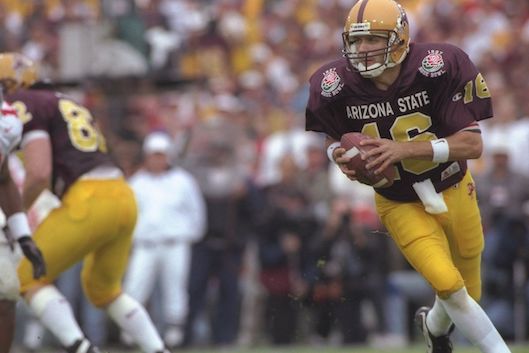 I think if I could have any quarterback's career on this list, it would be Jake Plummer's. That may sound a little crazy, but hear me out.
Plummer was a three-year starter at Arizona State. His sophomore year, they were terrible and finished 3-8.
His junior year, the ASU appeared headed in the same direction after a 2-4 start, but Plummer rallied the Sun Devils to four wins in five games, including back-to-back upsets over Oregon and UCLA.
Then came Plummer's senior season in 1996 and that season was magical. That's the year Arizona State upset top-ranked Nebraska in September and kept right on rolling through an undefeated regular season.
The Sun Devils entered the Rose Bowl with a legit shot at claiming at least a share of the national title, and they appeared to have done so when Plummer scrambled for a touchdown with just over a minute remaining.
On the ABC broadcast, Brent Musburger exclaimed, "The snake has done it again! This team won't die!"
Those two lines sum up the Jake Plummer experience. He had an awesome nickname ("Jake the Snake") and he had a reputation for delivering in the clutch over and over again.
How special that moment must have been for a guy who dragged his team from the depths of a 3-9 season just two years prior. I think it's my favorite moment involving any guy on this list.
Of course, that's not how the game ended. Ohio State rallied back for the game-winning touchdown and the Sun Devils saw a national title slip from their grasp.
But that's not what I think of when I think of Jake Plummer. I will always think of the scrappy QB diving into the end zone to preserve an undefeated season.
Sidenote: After ASU, Plummer was drafted by the Arizona Cardinals, the most miserable franchise in the NFL, and led them to their first-ever playoff win when they beat the Aikman/Emmitt/Cowboys in the '99 playoffs.
Considering a great number of ASU fans are also Arizona Cardinals fans, I don't think it's a stretch to say that Jake Plummer means more to that fan base than any other quarterback on this list means to theirs.
No. 3 — Andrew Luck, Stanford (2009-11)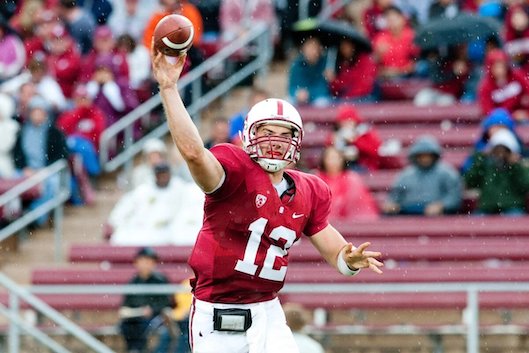 I'll leave it to Stanford fans to decide whether I chose the right can't-miss prospect here.
There's certainly an argument for John Elway who was the Heisman runner-up in 1982 and then was the top pick in the most loaded quarterback draft of all time.
But Stanford was also 15-18 during Elway's three years as a starter.
And the college football moment he is most remembered for is leading a late touchdown vs. Cal that was immediately overshadowed by a kick return which included five laterals and a band storming the field mid-play.
Elway didn't exactly change the culture of Stanford football the way some of these other guys did.
Andrew Luck, on the other hand, was a culture changer for the Cardinal. He committed to play for Jim Harbaugh when Stanford was in the midst of seven consecutive losing seasons.
In his freshman year, he immediately led them to eight wins.
That freshman year included a 51-42 masterpiece over a Top 10 Oregon team (which still makes my heart hurt) and a 55-21 win over a highly-ranked USC team the very next week.
It turns out that freshman year was just Luck getting warmed up. In his junior year, he led Stanford to their best season in school history (12-1, no. 4 national ranking).
He followed that up with a senior year that was almost as great (11-2, no. 7 national ranking).
He was also a Heisman runner-up in both 2010 (to Cam Newton) and 2011 (to RG3) and was by far the most important player in the 10-year Stanford football renaissance from 2009 to 2018.
No. 2 — Marcus Mariota, Oregon (2012-14)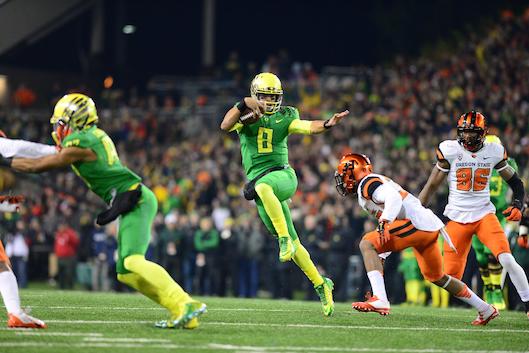 I've got Marcus Mariota No. 2 on this list because I don't want to be accused of too much Oregon bias, but if I were making the case for No. 1, it might look something like this.
Just three Heisman winners ended their careers with more career touchdown passes than Marcus Mariota. Here are their touchdown-to-interception ratios (TD/INT):
• Baker Mayfield, Oklahoma (131 TD and 30 INT)
• Ty Detmer, BYU (121 TD and 65 INT)
• Danny Wuerffel (114 TD and 42 INT)
Marcus Mariota? Well, he threw for 105 touchdowns and just 14 interceptions.
Oh, and he also rushed for over 2,000 yards, which is more than twice as many as Baker Mayfield. Meanwhile, Detmer and Wuerffel both finished their careers with negative rushing yards.
Oh, and Mariota also had a 36-5 record in three years at Oregon.
He also led the Ducks to their biggest win in school when they beat undefeated Florida State and reigning Heisman winner Jameis Winston 59-20 in the first-ever College Football Playoff game.
Mariota didn't win a national title at the end of that career, so he fell just short of qualifying for the GOAT argument, but I don't think I've ever seen a college QB play with the ease and fluidity that Marcus Mariota did.
No. 1 — Matt Leinart, USC (2003-05)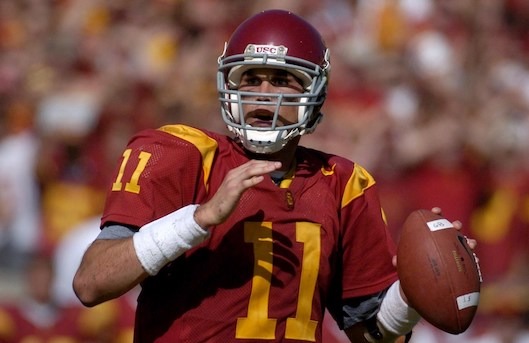 In the 2000s, there appeared to be some sort of weird curse related to Heisman Trophy winners and the BCS Championship Game.
From 2000 to 2008, there were six different Heisman winners who would play for a national title after receiving their trophy.
They were Chris Weinke of Florida State, Eric Crouch of Nebraska, Jason White of Oklahoma, Troy Smith of Ohio State, and Sam Bradford of Oklahoma.
All five of them lost the game they played immediately after receiving the trophy and after leading some of the most explosive offenses of the decade. None of their teams scored more than 14 points.
There was also Matt Leinart, who won the Heisman in 2004 after leading USC to an undefeated record and then led them to a 55-19 win over previously undefeated Oklahoma in the Orange Bowl.
At his best, Matt Leinart seemed to be playing a different game than everybody else.
If there's one play that Leinart is most remembered for, it was probably his quarterback sneak against Notre Dame in 2005, believed by many to be the greatest regular-season game of the decade.
If there's a play Leinart should be remembered for, it's the 4th-and-9 throw he made earlier in that drive to keep Notre Dame's 27-game winning streak alive.
Facing a do-or-die moment from his own 26-yard line, Leinart perfectly lofted a ball over a Notre Dame defender and into the arms of Dwayne Jarrett, who raced another 40 yards before being pulled down at the 10-yard line.
Granted, Leinart played on some loaded teams. You don't go 37-2 over three seasons without having plenty of talent around you. But Leinart was talented too.
He's the only guy on this list who was a legit Heisman candidate for three seasons, and he's the only guy on this list with one national championship to his name, much less two (and almost three).
He's the greatest quarterback this conference has ever seen.
Want more stories from Mark Scmor? Subscribe to his Mark's Moments Substack account.
---
—More from Mark Schmor—