Award-winning actress and director Kyra Sedgwick is helping to kick off the new school year by reading Alan Madison's brilliant children's story Velma Gratch and the Way Cool Butterfly for the SAG-AFTRA Foundation's free children's literacy program Storyline Online.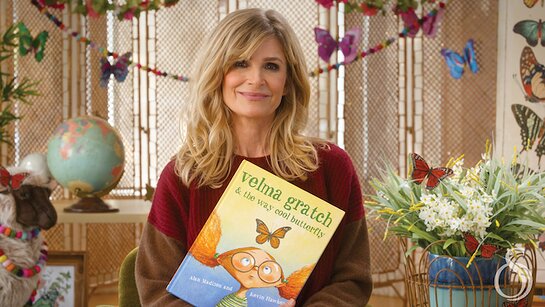 In this new read-aloud, Sedgwick inspires young ones to embrace their individuality while learning some scientific facts about metamorphosis and migration along the way!
Winner of the School Library Journal's Best Book of the Year, Velma Gratch and the Way Cool Butterfly is all about finding your passion and embracing your heart's desire, even if it looks different than what is expected of you. That's true for Velma, who is the youngest Gratch and entering the first grade. Velma is constantly reminded of her two older sisters who were practically perfect first graders. People can barely remember Velma's name, but all that changes on a class trip to the magnificent Butterfly Conservatory (where neither of her sisters have ever been) when a monarch roosts on Velma's finger, and becomes her new, winged friend. It's a transformative tale of a timid first grader who gains confidence and self-esteem when she discovers her passion for nature and science.
Published in 2010 by Penguin Random House, the story is brought to life with illustrations by Kevin Hawkes. And with back-to-school underway, SAG-AFTRA Foundation President Courtney B. Vance is excited to welcome Velma Gratch and the Way Cool Butterfly to the Storyline Online library this September.
"We are thrilled to have Kyra Sedgwick join the Storyline Online family. She is the perfect reader for Velma Gratch and the Way Cool Butterfly as Kyra, much like our heroine Velma, marches to the beat of her own drum!" says Vance. "Velma Gratch and the Way Cool Butterfly is so vibrant in both its message and illustrations, while also teaching a very important lesson about finding one's passion and learning to celebrate and embrace the differences within one's own family, and most importantly, within yourself. We can't wait to let this story fly!"
With hundreds of millions of views worldwide, Storyline Online has been a trusted educational brand and resource for teachers, librarians and parents since 2001. As with all Storyline Online read-alouds, Velma Gratch and the Way Cool Butterfly is accompanied by a complementary supplemental activity guide for teachers that aligns with Common Core Standards to strengthen verbal, written and comprehension skills. Velma Gratch and the Way Cool Butterfly includes themes of individuality, science, and sibling rivalry, and is aimed at students in 2nd and 3rd grades.
Kyra Sedgwick joins the impressive cast of Storyline Online readers including Angela Bassett, Kristen Bell, Connie Britton, Keith Carradine, Terry Crews, Viola Davis, Rosario Dawson, Cynthia Erivo, Sutton Foster, Jennifer Garner, Allison Janney, John Lithgow, Simi Liu, Rami Malek, Seth Meyers, Bob Odenkirk, Holly Robinson Peete, Chris Pine, Sheryl Lee Ralph, Justin Theroux, Oprah Winfrey, Michelle Yeoh, and dozens more who have volunteered their time and talent to promote literacy and inspire a love of reading in hundreds of millions of children worldwide.
To watch Velma Gratch and the Way Cool Butterfly and all of Storyline Online's read-alouds, visit storylineonline.net.