Dogma is both one of the worst movies ever made and also one of the best. Its cultural identity (white, American, and nerdy) is loud and precise, but its actual filmmaking is incredibly sloppy. Kevin Smith seems like the kind of guy who doesn't care too much how a shot is framed or whether the lighting is right, only if his actor can nail this scorching-hot joke he's written about Home Alone.
For the particular arena of film that Smith operates in, of the low-budget slacker variety, he doesn't really need a deft eye, just panache. He doesn't need a profound script, just a voice. That sort of intentional fast-and-loose style, characteristic of the mumblecore, slacker indie millennial age of American film, is endearing and gentle. Smith's appeal seems to be his easygoing vibe, his humility, and his sense of humor. His films might not be perfect, but they're exactly what they ought to be.
Today, in The Year Of Our Lord, 2023, Smith's Dogma is 24 years old, and some of its stars, like Ben Affleck, Matt Damon, Chris Rock, Salma Hayek, and Alan Rickman, have gone on to be nominated for Oscars, be slapped at the Oscars, and have all manner of acclaim heaped on them. Others, like Linda Fiorentino, Smith himself, and his buddy Jason Mewes, have had rockier careers or have disappeared from film entirely.
Dogma remains an important part of Smith's body of work. The filmmaker has directed genre films, comedies, flops, and another two Clerks and Jay and Silent Bob films apiece in the years since. Dogma will perhaps be best remembered as a bridge in his career, a hallucinogenic rainbow Bifröst joining his early slacker comedies to his bigger-budget studio efforts like Jersey Girl, Zack and Miri Make a Porno, and Cop Out. Dogma might not be good, but it certainly isn't dreadful — and that's like the whole point of cinema studies, isn't it? Sometimes you have to suck it up and write about a kind of poorly made movie because you respect it, because it has an important place in cinema history, and because your uncle gave you the DVD and you really had no excuse not to watch it. Dogma is bad, but it's good-bad. It's bad in a quintessentially 1999 way. It's bad in a way that makes you both crawl out of your skin and transcend the astral plane.
Two Archangels In Search Of Meaning
Dogma, in contrast to much of the rest of Smith's so-called "View Askewniverse," is packed with big-name talent. Affleck and Damon star as two archangels. They're on a mission to get back into heaven after being cast out by God. Out to stop them is Bethany (Fiorentino), a descendant of Jesus who allies with a muse (Hayek), a forgotten, ancillary disciple (Rock), and the voice of God (Rickman).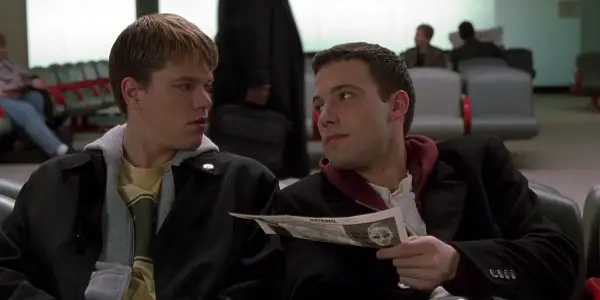 The plot is nigh incomprehensible. There are way too many detours, side characters, and religious revelations in Dogma to cram into a coherent plot summary. Characters are literally rattling off exposition until the very end of the film. Imagine that Dogma is a speeding locomotive and Smith is a Looney Tunes character, frantically laying down railroad tracks mere feet in front of the train. You wanna hear about divine miracles? It's a miracle Dogma was a success, grossing $44 million on a budget of $10 million. It's a miracle people love this movie. And it's a miracle, frankly, that it works at all.
One of the selling points of Dogma, which has only grown since the film's release, is its absolutely stacked cast. Jason Lee is there, Janeane Garofalo is apparently in the film in a role I've just completely forgotten about, and Alanis Morissette plays God. Also, George Carlin shows up for a cameo seemingly engineered to make the rounds every year on Facebook and YouTube as one of those annoying videos titled something like "HILARIOUS George Carlin EVISCERATES Christianity!!" Also appearing is Buddy Christ, a meme so old that seeing its film debut gave me arthritis.
The cast is filled with people who would soon explode in popularity and people who you could have sworn would have been A-listers in 1999, yet here they are, endlessly bantering about Catholicism, theology, John Hughes movies, and sex. Eighty percent of Affleck and Damon's performances are them doing the DreamWorks one-eyebrow-raised, smarmy smirk schtick.
Some of these actors Smith had worked with before. Lee, Affleck, and Damon starred in Mallrats and Chasing Amy, and the director seems like such a nice guy that it's no wonder those actors are keen to return to his films. As for the others, they're here through the cunning machinations of savvy agents.
Smith was the Next Big Thing in 1999, hot off a string of beloved indie hits. He was like if Jim Jarmusch was hip and wrote masturbation jokes. Just as Harvey Weinstein initially invested in Clerks to bolster his company's image as a studio that supports indie filmmakers, it stands to reason that some of Dogma's cast is there to similarly prove their indie bona fides.
Rickman, for instance, was eight years removed from his name-making performance in the otherwise dreadful Robin Hood: Prince of Thieves and 11 years past his breakout role in Die Hard, and had mostly appeared since in British films and prestigious period pieces like Michael Collins and Sense and Sensibility. The one-two punch of Dogma and Galaxy Quest he had in 1999 not only brought highbrow theatrics to those otherwise lowbrow comedies, but those films also remade his image in America. He was neither mugging nor debasing himself, but rather those roles reinforced the concept of Alan Rickman as a Proper Actor, somebody capable of bringing gravitas to the wackiest of projects and selling otherwise ridiculous dialogue. Rickman's role in the Harry Potter franchise two years later might have happened regardless of Dogma, but his appeal in America was undoubtedly enhanced by his iconic performance as Metatron.
Jay And Silent Bob
The oddest casting decision in Dogma is that of Smith himself, as he and Mewes reprise their roles as Silent Bob and Jay, respectively. They're one-note joke characters. They constantly try to shag the lead, have very little bearing on the plot, and really don't change much at all by the end of the picture.
Jay and Silent Bob are bizarre creatures. Jay's obsessed with sex, has a withering masculinity, and gives off real Peaked In High School vibes. He seems like the kind of guy you'd meet in a Denny's at 3 a.m. — the worst kind of person. Silent Bob rarely speaks, and Smith's large physique gives the character the intimidation of a bouncer but the temperament of a wide-eyed bear cub. Together, they've headlined their own trilogy of Jay and Silent Bob films. Here, the story isn't connected to them at all, and nothing going on even intersects with any of Jay or Silent Bob's interests. They're a horned-up movie and comic book nerds, so all this Old Testament stuff is not just over their heads, but it has nothing to do with them at all.
It's the characters' fourth appearance in Smith's interconnected film universe. Given the writer-director's love of Star Wars, the notion of two characters showing up in every movie in a series while the main cast changes film to film seems like an homage to R2-D2 and C-3PO. It's fascinating from a narrative studies perspective to look at the evolution of that archetype from the bumbling peasants in Akira Kurosawa's The Hidden Fortress to George Lucas' incarnation of them in the droids in Star Wars, only for Smith to pay tribute to them again in his films, turning the droids/peasants into two hapless stoners. They're elevated from the wandering fool characters to, like, the second and third most prominent people in the movie despite having dick all to do with the plot. R2-D2 and C-3PO are cool and all, but Dogma is like if the droids broke Princess Leia out of the Death Star and then flew X-wings in the Battle of Yavin.
Not only does Smith twist the archetypes into empty protagonists, but he also unwittingly makes some really dope insinuations about the evolution of social hierarchy in the 20th century. If his slackers are on equal footing with the maligned droid servant class of Lucas' science-fantasy wonderland and the penniless, begging peasant class of the Edo period, then the slacker genre as a whole is really no different from Italian neorealist films about poor workers, or the Russian socialist realism films about the virtues of the proletariat.
They talk about pop culture because the only power they're afforded is that of the consumer. The joke of the film is that Jay and Silent Bob are two normal people whose entire lives will likely have zero impact on the universe. They have no power, no responsibility, no influence. But Smith puts them in a situation where suddenly they have to save all of humanity, and the punchline is that they don't seem psyched about it in the least. Mewes gets one dramatic line in the whole film when he declares his (and Silent Bob's) love for Bethany, and bless his heart, Mewes just can't do it. The rest of the film doesn't bother with stakes or emotion for these two. It's just all sex jokes and Star Wars references — another Tuesday for Jay and Silent Bob.
Dogma '99
It's a shame Smith was born in New Jersey in 1970 because he would have crushed it as a Danish director born in the 1960s. In the late 1990s, while Smith was making Dogma, the Danes were cooking up a "dogme" movement of their own: Theirs, though, doesn't star Ben Affleck and Matt Damon. Instead, the dogme movement was a film exercise, an experiment in making movies as authentically as possible. No artificial lighting, no outside props, and no manufactured drama like murders or violence. Lars Von Trier and Thomas Vinterberg are its chief practitioners.
Dogma is clearly a beloved film. Smith continues to hold appeal among cinephiles (and New Jerseyans), and despite getting larger budgets and bigger casts, he doesn't seem to have changed his sensibilities much since 1999. But I wish he were given a smaller budget for something like Dogma. Clearly, he's here for the dialogue, as the large-scale ambition of his storytelling pales in comparison to his only true loves: pop culture references and people talking about stuff.
As hard as it is to hate a film like Dogma when clearly it's exactly the film Smith wanted to make, it's equally difficult to defend the film's incomprehensible story. It feels like it has as much plot as 12 seasons of Supernatural condensed into one stoner comedy that's still over two hours long. But give Smith a set of Danish rules to follow, forbid him from using guns and angels, and ask him to base an entire movie on conversations, and he might just make a masterpiece.
Conclusion
Dogma is way too ambitious for its breeches. It's just a nonstop, nonsensical bombardment of stuff happening with sex jokes, shootouts, and poop monsters stuffed in wherever they'll fit. But it's kind of charming.
As for the cast, it's clear why, the machinations of their agents aside, they're all there: Smith is a great guy to work with. In a world where blockbuster franchises are the only surefire way to get a huge paycheck as an actor, anyone would jump at the chance to be able to appear in a Kevin Smith film. Nearly all of Rickman's dialogue is really good jokes. Jason Lee gets to dress like a gangster. This was probably the most laid-back set of all time. Nobody's really asked to take it all seriously.
It feels like an extension of the same ethos that got Clerks made — everyone's having fun, saying witty, punchy dialogue. For many of these performers, I'm sure movies like Dogma are why they got into acting in the first place.
Have you seen Dogma? What did you think? Let us know in the comments below!
---
Watch Dogma
Does content like this matter to you?
---
Become a Member and support film journalism. Unlock access to all of Film Inquiry`s great articles. Join a community of like-minded readers who are passionate about cinema - get access to our private members Network, give back to independent filmmakers, and more.