The Troy Savings Bank Music Hall announced an addition to their fall schedule: Celebrating 50 Years of Hip Hop. The night on Friday, October 27 at 7:30 PM will feature performances to highlight the history of hip hop with classic tracks and the genre's favorite artists.
Live shows feature JB!! aka Dirty Moses, Ohzhe, KATANI, DJ Nate da Great, Shiloh the Messenger and Mundy.
The performers will be joined by Albany's Victory Soul Orchestra. The horn funk favorite cites influence from classic New Orleans brass bands, as well as artists including Galatic and the Dap Kings.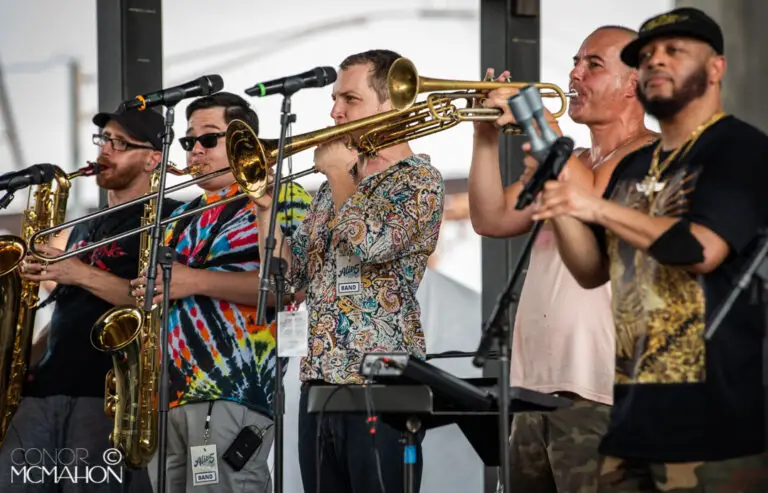 The Troy Savings Bank Music Hall is thrilled to celebrate a half century of rhythm, rhyme, and revolution, with the beats of our local, talented artists in a timeless tribute to our community's cultural evolution.

Jon Elbaum, Executive Director, Troy Savings Bank Music Hall
JB!! aka Dirty Moses
Capital Regions 2022 & 2020 Eddies award winner for HipHop/Rap Artist of the year. JB!! aka Dirty Moses is on a mission to educate and enlighten others through music. This is your invitation to JB!! aka Dirty Moses World: a world of rhythm and rhyme; a world of love and inspiration: and a world of energy and music. This is where you'll find JB!! aka Dirty Moses's photos, music, videos and much more. For over twenty years JB!! aka Dirty Moses's unique and methodical style has awakened the joy of music in thousands, young and old, all over the world.
Ohzhe
Albany native rapper with southern roots is marking his territory in the rap game with powerful lyrics, a diverse flow, and confidence that is undeniable.  From being Eddie award nominated as best HipHop artist in his city, to creating opportunities for the youth Ohzhe stands true to his goal, to inspire the world and push forward the culture.
KATANI
Anti-misogyny, pro-black, community uplifting raptivist duo comprised of Amani O+ & Kat SoPoetic. Kat + Amani = KATANI.  Best friends who began collaborating in 2016 as a response to the corruption, abuse and silence we experienced and observed locally and nationally. We found ourselves alchemizing our rage and disappointment into visionary medicine and inspiration.
DJ Nate da Great
DJ, turnt-tablist, thinker, maker, coder, etc… Been doing this DJ thing for 30+ years. Been doing this human-being thing for 40+ years. First and foremost I'm a creative thinker. I appreciate artistry, thinking outside the box and the creative process. I prefer to take the path less traveled. That actually happens sometimes.
Shiloh the Messenger 
Located in Upstate New York, Shiloh The Messenger is a rapper, producer, and writer who pours his soul into his musical passion. Originating with a background of reggae and calypso, he's found solace in hip hop, and over the years has continued to hone his skills and elevate his mastery of the craft.
Victory Soul Orchestra
Victory Soul Orchestra is a hometown horn funk favorite. The dirty sounds of New Orleans brass drive their sound with some influences including Galactic as well as the Dap Kings. You can also find them fronted by Albany's own JB aka Dirty Moses and singer Dali Soto.
Tickets for Celebrating 50 Years of Hip Hop are on sale via phone at (518) 273-0038, in person at the box office, or online at troymusichall.org. The Troy Savings Bank Music Hall Box Office is located at 30 Second Street, Troy. Hours are Monday through Thursday 10AM-3PM. 
More information on the venue and other upcoming programs area available at troymusichall.org.