25th Aug
Narrated by Mary Robinette Kowal, Once Broken Faith by Seanan McGuire is the tenth audiobook in the urban fantasy series October Daye. High King Aethlin Sollys of the Westlands has called a grand convocation to discuss the cure for elf-shot. Tempers, murder and danger keep Toby & her allies busy in this newest installment…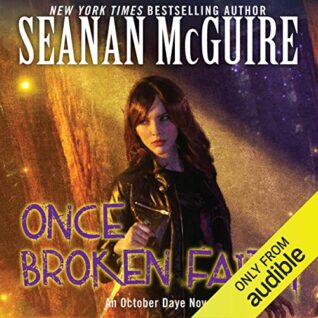 Once Broken Faith
by Seanan McGuire
Series: October Daye #10
Narrator: Mary Robinette Kowal
Length: 11 hours and 28 minutes
Genres: Urban Fantasy
Source: Purchase
Purchase*: Amazon | Audible *affiliate
Rating:

Narration: 5 cups Speed: 1.5x
Politics have never been October "Toby" Daye's strong suit. When she traveled to the Kingdom of Silences to prevent them from going to war with her home, the Kingdom of the Mists, she wasn't expecting to return with a cure for elf-shot and a whole new set of political headaches.

Now the events she unwittingly set in motion could change the balance of modern Faerie forever, and she has been ordered to appear before a historic convocation of monarchs, hosted by Queen Windermere in the Mists and overseen by the High King and Queen themselves.

Naturally, things have barely gotten underway when the first dead body shows up. As the only changeling in attendance, Toby is already the target of suspicion and hostility. Now she needs to find a killer before they can strike again—and with the doors locked to keep the guilty from escaping, no one is safe.

As danger draws ever closer to her allies and the people she loves best, Toby will have to race against time to prevent the total political destabilization of the West Coast and to get the convocation back on track…and if she fails, the cure for elf-shot may be buried forever, along with the victims she was too slow to save.

Because there are worse fates than sleeping for a hundred years.
There is never a dull moment if your name is October Daye. Queen Windermere of the Mist hosts the convocation. Filled with political intrigue, suspense, murder and plenty of twists, McGuire held me captive from beginning to end.
Everyone who is anyone is in attendance and everyone has an opinion from the Sea Queen whose sister created the curse to kingdoms from the south. The discussion had just started when King Anthony Robinson of Angels, the Kingdom to the South, was found dead. Soon the castle is on lockdown and the king tasks Toby with finding the murderer. But rumors begin as some believe that the killer is Toby.
The tale that unfolded was full of reveals, magical relics and near-death experiences. McGuire had me on edge the entire time as Toby, Tybalt and the others find themselves in great danger. I loved watching Toby piece together clues, interview everyone and shock the royals.
The eighteenth audiobook will release this year, and I will say each book is better than its predecessor. I cannot wait to listen to the next one, The Brightest Fell.
Mary Robinette Kowal narrates the series and has become the voice of these characters. From her pacing to the unique voices, she enhances my enjoyment and truly brings the stories to life.
Once Broken Faith by Seanan McGuire, Narrated by Mary Robinette Kowal, delivered with non-stop suspense as Toby is tasked with solving a murder. #audiobookreview #OctoberDaye #urbanfantasy Click To Tweet

Stay Caffeinated!
Never miss a post by adding Caffeinated to your Inbox
Reading this book contributed to these challenges: