As the nights turn darker and the air turns cooler the staff at Floris Books sense a change on the wind. Autumn is here! We love this time of the year and have managed to whittle down our favourite things into a mere 5 points!
1. Falling autumn Leaves
Autumn is a fascinating time of the year where we see a whole host of beautiful colours emerge as the leaves start to turn. Why not try collecting your favourite leaves for a collage or nature. Browsing through Autumn and Winter Activities Come Rain or Shine we were inspired with lots of ideas for things to do: creating pine-cone gnomes, crafting acorn chains and building nesting boxes for garden birds. Parents and teachers will find loads of ideas to help children engage with the season.
2. Beautiful Sunsets
"The sun was setting behind the distant mountains, clothing the world in a golden glow." 
We're as bewitched as Pico the Gnome by the lovely sun sets we're watching through the windows of our office. An Autumn sunset is a treat that's not to be missed in our book!
3. Conkers
At Floris, a game of conkers is a chance to unleash our more competitive side. Conkers has been played by school children for well over a hundred years. In Gerda Muller's stunning illustrated board book we can see the children gathering seeds from the conker trees. What will they do with them? This unique book is wordless. Why not make up a story with your child to match the beautiful illustrations. They'll love spotting all the seasonal details.
4. Blackberries
Big and juicy, blackberries are always a real treat when Autumn arrives. For most British children, blackberrying is almost a rite of passage. It's also one of the many things that get kids out of the house and into nature. in Elsa Beskow's classic picture book Children of the Forest the family all gather together to help with the harvest, including tasty blackberries to make jars of jam.
5. Mushrooms
Autumn is the time of the year when mushrooms really come in to their own. As the days get colder a warm mushroom soup is a nourishing treat! In this charming picture book, beautifully illustrated by Signe Aspelin, we meet the many different families of mushrooms.
Our favourites have to be: perfectly playful porcini mushrooms, the beautiful button mushrooms and the pretty parasol mushrooms. As Autumn approaches you'll notice an increasing number of mushroom varieties. We think fans of Elsa Beskow and Sybil von Olfers will love this sweet picture book.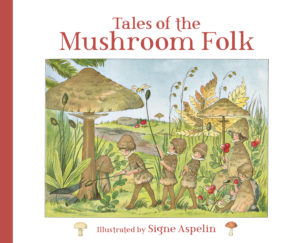 What are your favourite things about Autumn? Do you agree with our suggestions? Let us know what you think. To find out more about any of the books featured here online simply click the covers.
Save
Save
Save
Save
Save
Save
Save
Save
Save
Save
Save
Save
Save
Save
Save
Save
Save
Save
Save
Save